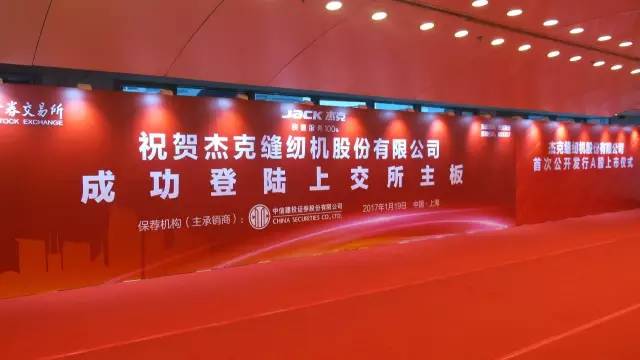 On Jan 19th, Jack Sewing Machine Co.,Ltd was successfully listed in Shanghai Stock Exchange(stock abbreviation "Jack stock", stock code "603337"). Jack stock totally issued 51.67million shares this time, and the total shares is 206.67 million after issuance. The offering price is 17.72/RMB, Opening Price is 25.52/RMB and jumps by over 44.02% at the first day.
Important guests attending the ceremony include:
Vice Mayor of Taizhou Municipal People's Government – Dong Guibo
Chief Executive of Shanghai Stock Exchange – Pan Xuexian
Vice Chairman of China Light Industry Federation, Chairman of China Sewing Machinery Association – He Ye
Chairman of Jack Stock – Zhao Xinqing
Executive Vice President of China Garment Fashion Association – Chen Dapeng
Vice President of China National Textile And Apparel Council, President of China Industrial Textiles Association – Li Lingshen
Former Chairman of China Sewing Machinery Association – Tian Minyu
Honorary President of China Leather Industry Association – Su Yingzhao
Actual Controller of Jack Stock – Ruan Jixian
Actual Controller of Jack Stock, Vice Chairman – Ruan Fude
Actual Controller of Jack Stock, Vice Chairman – Ruan Jiming
Jack Stock Director, General Manager – Guo Weixing
Jack Stock Director, Board Secretary, Chief Financial Officer – Xie Yunjiao
Jack stock has always focused on research, development, production and sales of industrial sewing machine since its inception, and has become a leading manufacturer and one of enterprises with the largest scale of production and sales in global sewing machine industry, continuously spreading the power of "made in China" into global market.
The chairman of Jack Sewing Machine Co.Ltd, Zhao Xinqing says, Jack stock will grasp this opportunity of going public and take advantage of the capital market platform, further optimize the capital structure, improve the ability of capital operation, to promote sustained, rapid and healthy development to meet demands of customers and reward shareholders and investors with excellent performance, becoming a great listed company with strong sustainable growth.
The executive committee, head of sponsor business and managing director of China Securities Co., Ltd, Liu Naisheng, express' his warm congratulations upon the successful listing of Jack stock. He believes that Jack stock has got the access to the fast track of capital markets, and will grasp the opportunity to climb the pinnacle, continue to maintain prudent management, the good momentum of development, to realize the new span in the new starting point, to practice social responsibility, protect the interests of investors and give investors sustained and stable returns by making sound and effective mechanism.
The vice mayor of Taizhou city, Dong Guibo, hopes that Jack stock, being a listed company as an opportunity, to follow the national transformation and upgrading of manufacturing strategy, adhere to technological innovation, management innovation, making the product unceasingly toward high-standards, intelligence and globalization, achieving sustainable and healthy development, providing investors with more stable generous returns, and becoming outstanding in the capital market.
At 9:30 am, Dong Guibo, He Ye, Chen Tingcheng, Zhao Xinqing, Ruan Jixiang, Ruan Fude beat the drum and Jack stock goes opening.
The funds raised by Jack Stock will be applied to "the annual output of 1 million sets of intelligent energy-saving industrial sewing machine project", "the annual output of 20000 sets of special industrial sewing machine technological upgrading project ", "the annual output of 450000 sets of permanent-magnet servo motor technological upgrading project" and "the annual output of 300 sets of automatic cutting technological upgrading project". That the raised-capital investment projects are constructed and put into operation will further enhance the company's core competitiveness of main business, expand product market share, raise the comprehensive strength of industrial sewing equipment chain, and provide strong motive power to realize the transformation from research and development driver to brand driver and create two end-to-end business lines.